By Philip Duplisey – Director Consulting Services
At Bardess, we have chosen QlikView as our preferred Business Intelligence solution, over the years in this business we have finally found a software product that lives up to its promise of ease of use, rapid development, low cost of ownership and ultimately end user self service BI.
Having said that, QlikView is the new kid on the block, and most of our clients are large F500 companies that have complex environments and expect secure, scalable solutions. So the question becomes, is QlikView ready for the enterprise? It has been our experience that, yes, QlikView can go head to head to the mega-stack vendors like IBM Cognos, SAP Business Objects, and Oracle who have dominated the enterprise business intelligence landscape in the past.
A QlikView deployment can scale from a single desktop user to tens of thousands of users across a global enterprise if required. Refer to the diagram below from QlikTech's white paper – "Deploying QlikView'.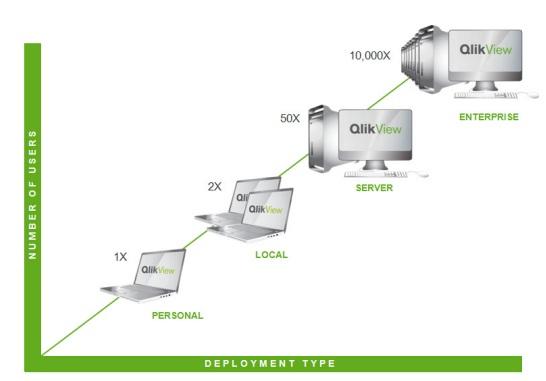 With the advent of 64 bit Windows servers, the key is clustering multiple QlikView servers and QlikView Publisher to build a deployment that can scale to support several thousand users, provide resiliency, failover, load balancing, and full QlikView analysis. Each deployment is unique, and architected to suit the unique environment and business requirements of the end users. Contact Bardess and we will help you design and build a QlikView environment to meet your business intelligence needs.
About the Author
Philip Duplisey, Director of Consulting Services at Bardess, has been implementing enterprise wide solutions globally at Fortune 500 companies for 15 years. He enjoys enabling the organization to find value in their data, and presenting that data in compelling ways that lead to deeper insights and improved performance.