The Future of Work is Changing … Are You Ready?
Bardess Lead Data Scientist, Daniel Parton, and Bardess partner, LDS, will show you how!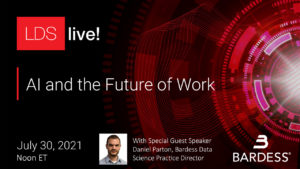 At Bardess, we know from experience that AI and digital transformation can have revolutionary effects on the modern business workplace. While these changes often represent exceptional business value, the scale of the adaptations required can create cultural challenges. How can businesses handle the change management required to ensure successful implementation and acceptance of such projects?
On July 30th at noon, our lead data scientist, Daniel Parton, will be discussing this question on a webinar with our partners LDS. The topics discussed will include:
How to build the critical adaptive and agile human capabilities and mindsets that will ultimately drive enterprise growth strategies in the digital era.
Techniques such as explainable AI and human-in-the-loop AI, which demonstrate how AI can be used alongside human insight, like any other tool.
Specific industry examples.
Advice for how organizations can handle the continued organizational disruption that lies ahead.
Click here to register.
To speak with Bardess and discuss how digital transformation initiatives can be made successful at your business, please contact us today.