By Joe DeSiena, President Consulting Services
Moving Toward Data Quality
Data Quality is the desired state where an organization's data assets reflect:
Clear definition or meaning;
Correct values;
Understandable presentation format (as represented to a knowledge worker); and
Usefulness in supporting targeted business processes.
Regardless of the state of the organization's data assets, there must still be a balance of data, process, and systems in order to meet the company's stated business objectives, which generally focus on things like:
Increasing revenues and margins;
Increasing market share; and/or Increasing customer satisfaction.
In today's economy, companies tend to focus their investments more on packaged systems and business process optimization, rather than on Data Quality. As a result, investment in corporate Data Quality is often overlooked – and this can very easily lead to a significant reduction in the organization's ability to effectively answer critical business questions, such as:
Who is our customer?
Are we missing sales opportunities?
Is the customer's product entitled to service?
Are inaccuracies causing customer dissatisfaction?
What should we spare; how many; where?
Are our service functions efficient; is our decision support timely and reliable?
How is our product defined?
Is our billing accurate and timely?
But, it gets even worse! Poor Data Quality eventually stunts operational efficiency in virtually every area of the organization, as otherwise valuable resources (i.e., personnel, dollars, time, etc.) are required to spend an inordinate and unnecessary amount of extra effort:
Searching for missing data;
Correcting inaccurate information;
Creating temporary, or permanent, workarounds;
Laboring to assemble information from disparate data bases; and
Resolving data-related customer complaints.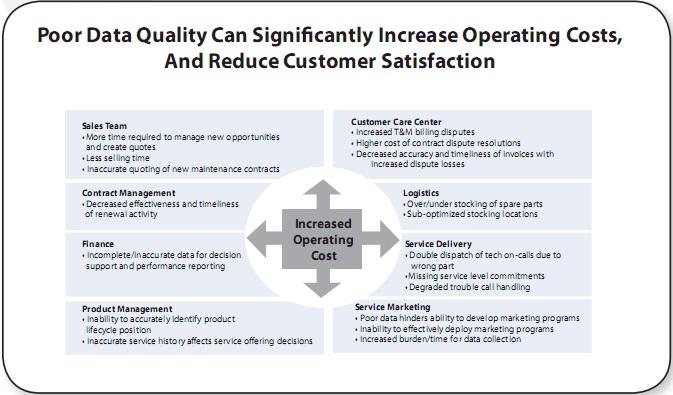 Over time, not only does poor data quality significantly decrease an organization's revenue-generating opportunities (Figure 3), it also significantly increases its operating costs and may lead to a reduction of customer satisfaction (Figure 4).
How to Achieve Data Quality
Arguably, the greatest battle you will face inside the organization is getting management to agree data quality is a goal worth considering. To do this, every organization must have a champion to help find ways for removing barriers and changing existing perceptions. The primary focus of the champion is:
Assisting in making data quality a strategic priority;
Assuring that data quality will be used to enable business processes; and
Find – and communicate – compelling ways to make data quality attractive.
Bardess Group has assisted many organizations achieve Data Quality by applying the most effective methodology for accelerating the data cleansing and control processes.
About the Author
Joe DeSiena is President of Consulting Services at Bardess Group, Ltd., a Management Consulting firm specializing in data revitalization, business process design, and information technology for services-related businesses.   He is currently a board member of the Society for Information Management in New Jersey.
He is an experienced management consultant with over 20 years of professional experience assisting Fortune 500 clients in resolving business issues related to the Triangle Relationship between business data, processes and systems functions for services and sales organizations. More specifically, he has directed engagements in services marketing and delivery, business planning, data revitalization, data migration, process design and reengineering among others. He has shared his experience and insights in presentations before numerous senior client and association groups.
Joe DeSiena's industry exposure includes data networking, telecommunications, manufacturing, pharmaceuticals, financial services, utilities, travel and entertainment among others. He has corporate management experience in major companies such as American Express, Chase, Bristol Meyers-Squibb, Coopers & Lybrand (PWC), Deloitte Touche, and Pan Am.  Joe DeSiena is a graduate of the Stern School of Business at NYU with an MBA in Finance. He received his B.A. in Mathematics and Economics from the State University of New York at Stony Brook graduating Magna Cum Laude with Phi Beta Kappa honors.