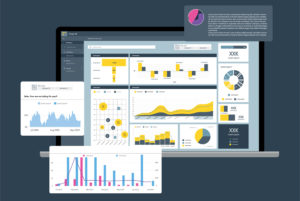 Microsoft Power BI is a business intelligence tool and analytics platform that helps organizations transform data into insights. It provides users with the ability to create interactive data visualizations empowering data analysis to spot trends and make better decisions. Power BI offers standard features including: data modeling, report building, and dashboards, along with unique capabilities, such as its natural language processing and its integration with Microsoft Excel.
Microsoft Power BI is well-suited for businesses that need to track large amounts of data and want to be able to quickly generate data visualizations. It includes three user facing components:
Power BI Desktop: One of the most powerful features of Power BI is the desktop application. Power BI Desktop is a self-service data analysis and visualization tool that allows users to connect to data sources, transform and clean data, create calculations, and build stunning visualizations. The desktop application also makes it easy to share your work with others in your organization by publishing to the Power BI service.
Power BI Service: The Power BI service is a cloud-based platform that allows users to access and interact with data visualizations created in Power BI Desktop. The service also provides collaboration features, such as commenting and liking, as well as the ability to create and manage groups. Groups allow you to share data visualizations with specific sets of users, making it easy to give different teams access to the information they need.
Power BI Mobile App: The Power BI mobile app allows users to access their data visualizations from any iOS, Android, or Windows device. The app also includes features for offline viewing and push notifications, so you can stay up-to-date on your data even when you're on the go.
Microsoft Power BI is designed to be user-friendly and easy to use; Microsoft even offers free online courses to help users get started with the tool. It is a powerful business tool that can help you make better decisions and drive growth.
To find out more about Microsoft Power BI and if it might be right for you, contact us today.