It's only been a month since the official announcement for Qlik Sense, and already there is quite a bit of buzz throughout social media.  Those who follow BI have definitely heard of QlikView by now.  And those that follow QlikView closely are excited (and perhaps a little anxious?) about what the next few months and years will look like as the Qlik Sense platform is more fully introduced and becomes matured.
What, exactly, is Qlik Sense?  It's being described as the next-generation data visualization product from Qlik.  Qlik Sense delivers "a simple drag-and-drop interface…to rapidly create interactive visualizations, reports, and dashboards.  It provides new capabilities in the areas of true self-service visualization and analytics".  Qlik Sense Desktop (now available as a free download) "is the first commercially available release from the QlikView Next project.  It includes the Qlik patented data indexing engine to give users the unrestricted ability to explore relationships that exist in the data".  The complete Qlik Sense offering is expected to be generally available in September 2014.
Now that we've provided a GENERAL description of Qlik Sense (with more to come in the future) – let's establish what Qlik Sense is NOT.  It is NOT a replacement for QlikView, the market-proven, leading BI application platform for the rapid creation of "guided analytics" applications which support user-driven exploration and analysis.  Qlik has stated publicly that "if you are an existing QlikView customer and you are happy with your deployments, you could very well continue with that installation and pickup (Qlik Sense) for a new project.  QlikView is for guided analytics.  Qlik Sense is for self-service visualization".
This is an extremely important point.  Many have wrongly assumed that Qlik Sense replaces QlikView, and are already wondering "what plans should we start making to upgrade to Qlik Sense?" While the technology is similar, the 2 products are, in fact, quite different, and target potentially different audiences.  Qlik will continue to support and enhance QlikView for as long as the market demands!
Since the release of free Qlik Sense Desktop, I have taken the opportunity to play around with the product and become more familiar with some of its new features.  I have also had to remind myself to stay rational and open-minded, as human nature sometimes prompts us to get emotional and jump to conclusions too quickly.  It was an OPEN-MINDED approach that led me to become so passionate about QlikView in the very first place.
I decided to load data from a prior demo app we had created that was focused on FEMA Disaster Declarations.  And then to see how easy it would be to re-create some of the same visualizations.  As promised, Qlik Sense is very "drag-n-drop" oriented.  In fact, right away I could easily see that just about any knowledgeable information worker would be able to load data into Qlik Sense and create visualizations without having to write a single line of script). Luckily, the full scripting engine is still available, which is important given that so many data sets are not quite "analysis ready" and may require further manipulation
A few other things I quickly noticed:
a "tiled" interface that allows for easy alignment between objects and is friendly to re-sizing
Appealing default colors and font choices
Qlik Sense applications look great right "out of the box"
This last point is important to highlight.  QlikView does not always lead an application designer to make choices that present a more aesthetic application.  Yes, it's possible, but, it sometimes requires quite a few extra steps. Qlik Sense seems to make things attractive by default, while still allowing for some degree of control over many design aspects.
Using my existing FEMA data set, I was able to create a new Qlik Sense application quite similar to the one I had previously created in QlikView.  And while it's true that certain settings were either unavailable, or hard to find (ex: changing font style or color, adding custom images, turning labels on and off, etc.) – I think Qlik Sense has a good chance of success in the large, self-service market of Excel power users, who are always thinking of the next question and need the ability to quickly create their own analytics and change things on the fly.  I look forward to being a part of the continued Qlik evolution over the next several months and years.
QlikView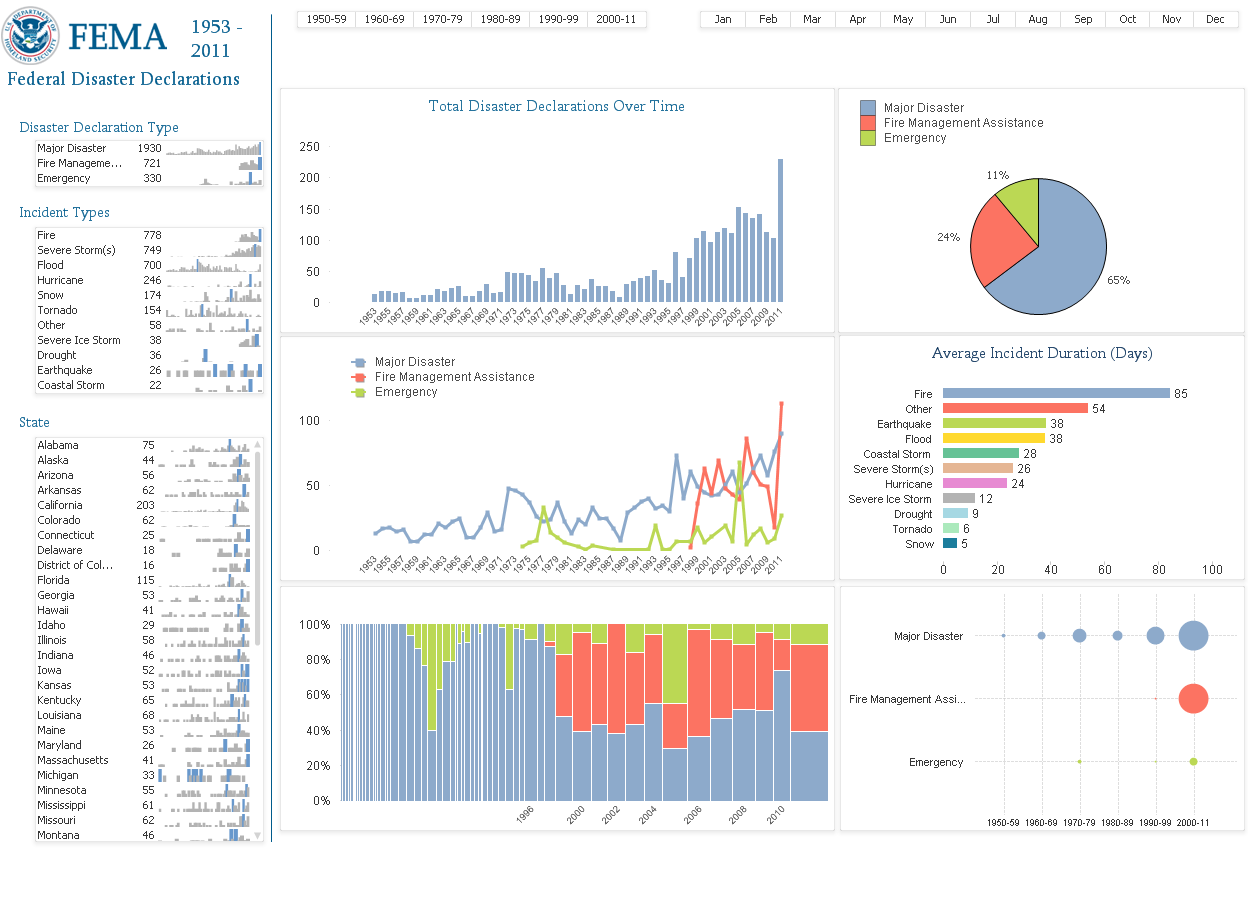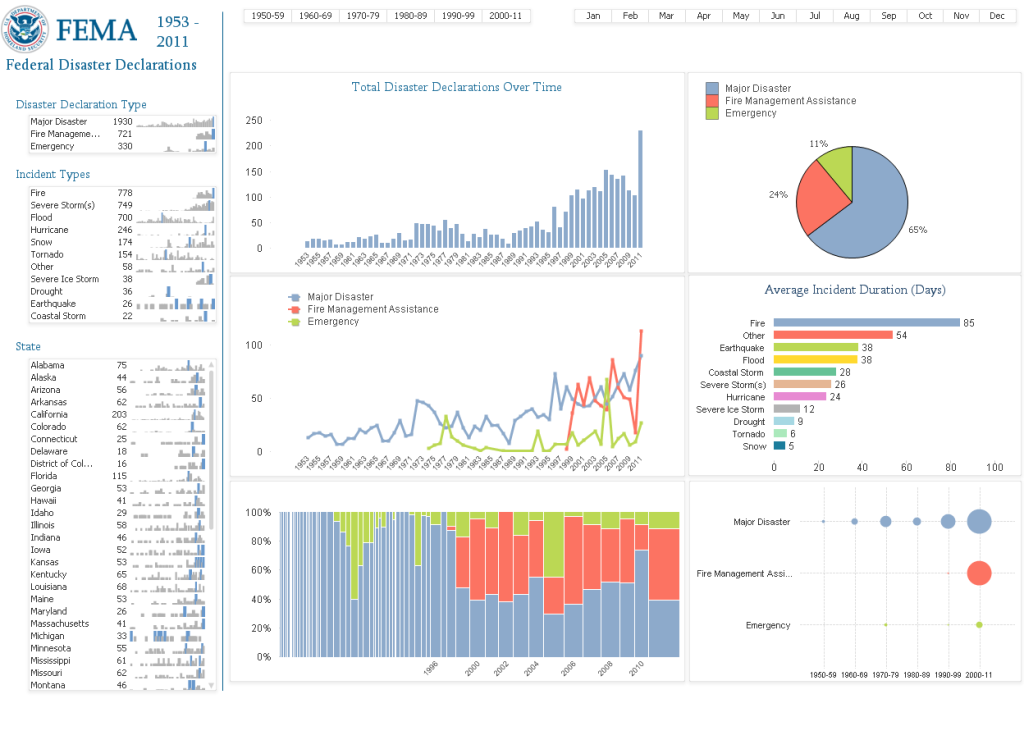 Qlik Sense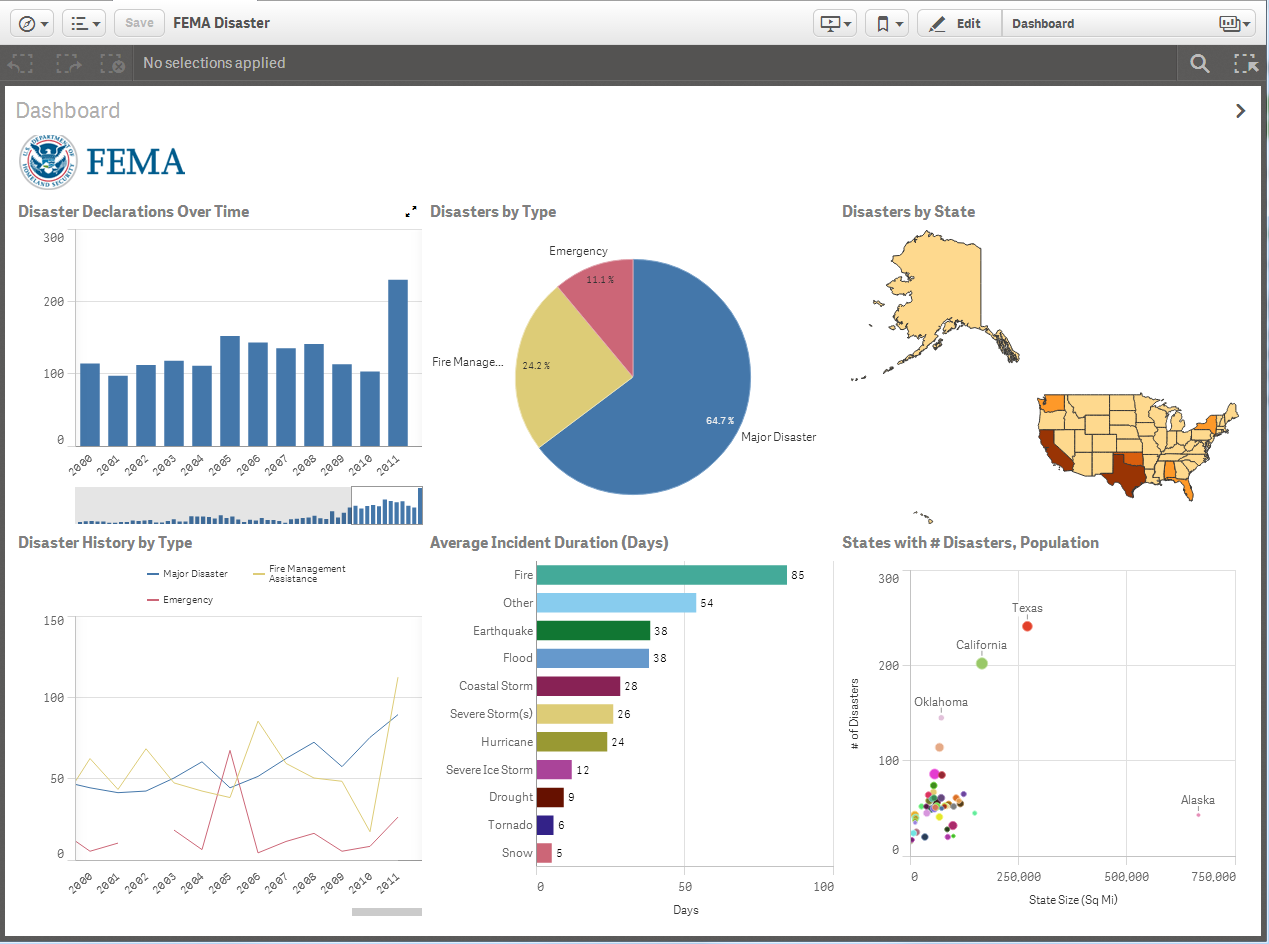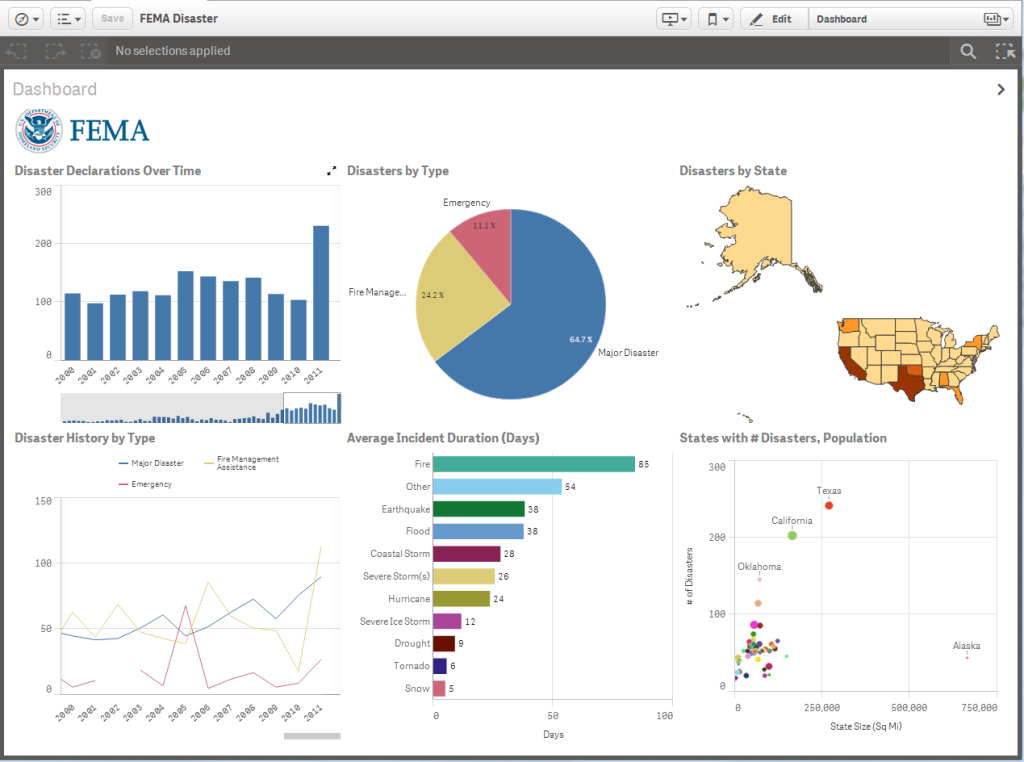 Are you interested in learning more about Qlik Sense, or perhaps learning more about either one of our beautiful "FEMA Disaster" dashboards?  Contact us today.