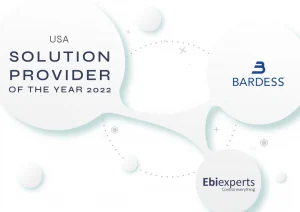 Bardess is proud to be the Ebiexperts USA Solution Provider of the Year 2022.
Ebiexperts is a Swiss company with offices in Switzerland, France and South Africa. They operate through a global partners channel that represent and implement Ebiexperts products, including Work in Progress source, Section Access Management for Qlik and Active Backup for Qlik environments.
Bardess CEO Barbara Pound and President Joe DeSiena take great pride in the partnership and sees great things coming down the pipeline.
"Looking ahead, we see great things coming with Ebiexperts, he said. "This year will be amazing and bring us to all new levels of success."
Ebiexperts CEO John Paul Kirton praised Bardess on their commitment to and understanding of value of data and controls.
"Bardess customers are large, global organizations with a need to control and structure very complex environments," said Kirton. "Bardess' dynamic team certainly deserves this award for their diligence in securing their customers' Governance, Risk and Compliance requirements. We truly enjoy our collaborative sessions which both improve our roadmap and drive us to futureproof our solutions for these complex customer cases."
To find out how Bardess can help you with your  Governance, Risk and Compliance requirements, contact us today.