By Joe DeSiena, President Consulting Services
Key Components of the Asset Management Process
The key drivers of the asset management process consist of the following four components:
Data Extraction (Collection) and Reconciliation
Development of both the processes and the standards for collecting inventory data (electronic or manual).
Performance of an automated, or semi-automated, process to validate, translate and reconcile the results.
Conducting a tool assessment, and serving as the SME for implementation.
Coordinating or performing physical or network inventories at the Company and/or customer locations (e.g., installed base, entitled base, stock equipment, etc.).
Process, Policy and Procedure Development
Conducting the required asset management process analyses and evaluations.
Designing and developing processes and capabilities to support PETRO® implementation.
Defining the policy and procedures required in the asset management process for both the near- and long-term.
Requirements/Systems Development
Developing all functional and systems requirements; coordinating and engaging IT in the development of an automated system to analyze, extract, translate, reconcile and assimilate Company data.
Development of working models and systems, as needed, to support the asset management process.
Data Maintenance
Development of processes to support the asset management process for long-term implementation, including ongoing data maintenance and integrity.
Development of meaningful Asset Performance Monitoring and Control processes.
A typical asset management solution, including all key components of the process, is illustrated in Figure 2.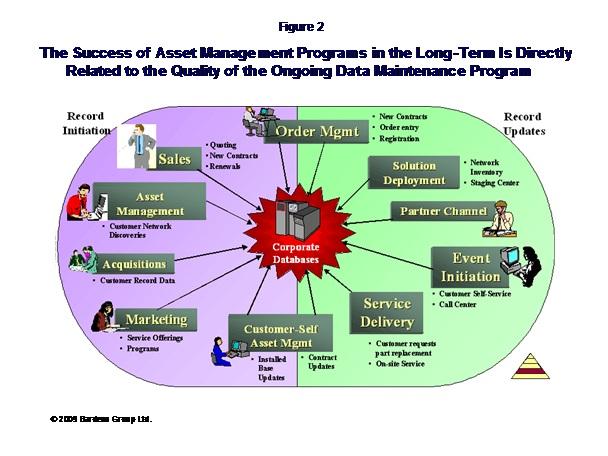 Asset Management Success Stories
The implementation of an effective asset management solution can dramatically reduce a business's overall IT expenses, while simultaneously improving its customer service productivity and resulting levels of satisfaction. The following are brief case studies that reflect some of the "real" benefits of asset management:
Case Study #1: Network Inventory Project
In order to update and enhance the accuracy of the organization's installed base data, the company wanted to assess the feasibility of: (1) utilizing an SNMP discovery tool to identify customer network chassis devices, and (2) mapping data to entitlement and installed base records.
Bardess consultants assessed the quality of data within the existing services systems and determined key data elements required for update and ongoing maintenance. The capabilities of the company's network discovery tools were assessed to determine viability. The consultant team then developed working models and processes to translate the data returned by the network discovery tools to match the internal ordering system nomenclature. Finally, the team assessed the feasibility and capabilities of reconciling network discovery data to internal system customer records focusing on the availability, population and validity of key data elements.
The use of an electronic discovery tool was identified as a viable and cost-effective method for obtaining data to improve the overall data quality and integrity of customer records within the internal Company systems.
Case Study #2: Reconciliation Repository Development Project
In this particular case, the Company was looking for assistance in developing a reconciliation repository to serve as the foundation of its asset management initiative. The overall project was designed to meet management needs through the execution of the following five components and their respective activities:
Processing
• Baseline and MACD (Move, Add, Change, Delete) Process
• Sites
– Validation with systems
– Sales team validation
– Interface with Customer
• Parts
– Sales team validation
– Interface with tools
– Interface with Customer
Data Management
• Record Location Control
– Sites
– Parts
• Capture of Major Findings
– Site Analysis
– PID/SN Assessment
– Intra-Customer Reconciliation
– Customer Reconciliation
– Cleansing/De-Dup
– Upload Assessment
Engagement-Specific Processing
• Use of Customer Reconciliation
• Serial Number Requirements
• Service Level Cascades
• Start/End Coverage Dates
• MACD Overrides
Process Management
• "Sequence of Events"
• Tracking Function Completion
• Apply Engagement "Rules"
Reporting
• High Level
• Detailed at the Status Level
• Ad Hoc for the Account Team
Only by focusing on all five components of the overall reconciliation process was the Company assured that its asset data repository could provide it with the functionality, tools and resources it required to support its overall asset management initiative.
The Key Benefits of Asset Management
The benefits of effective asset management are many – both for the business itself, as well as for its customers. For the business, the key benefits are:
Increased customer satisfaction
Increased service delivery performance and contract accuracy
Reduced risk of unknown equipment in customers' networks
Improved entitlement verification and speed
Improved depot sparing accuracy to support customers
Creation of an MACD process with the customer
For the business's customers, the benefits are equally rewarding, consisting of:
Increased knowledge and trust of asset data and locations
Reduced network compliance and security issues
Improved accuracy of asset accounting/depreciation
Improved Asset Life Cycle Management
Increased business control for asset ownership, usage and procurement
Reduction in the number of audits
In both cases the benefits are substantial, measureable and quantifiable. Further, they are easily transferable into ROI-based metrics that can be used as a compelling tool for persuading management to move forward with the most effective asset management solution.
About the Author
Joe DeSiena is President of Consulting Services at Bardess Group, Ltd., a Management Consulting firm specializing in data revitalization, business process design, and information technology for services-related businesses.   He is currently a board member of the Society for Information Management in New Jersey.
He is an experienced management consultant with over 20 years of professional experience assisting Fortune 500 clients in resolving business issues related to the Triangle Relationship between business data, processes and systems functions for services and sales organizations. More specifically, he has directed engagements in services marketing and delivery, business planning, data revitalization, data migration, process design and reengineering among others. He has shared his experience and insights in presentations before numerous senior client and association groups.
Joe DeSiena's industry exposure includes data networking, telecommunications, manufacturing, pharmaceuticals, financial services, utilities, travel and entertainment among others. He has corporate management experience in major companies such as American Express, Chase, Bristol Meyers-Squibb, Coopers & Lybrand (PWC), Deloitte Touche, and Pan Am.  Joe DeSiena is a graduate of the Stern School of Business at NYU with an MBA in Finance. He received his B.A. in Mathematics and Economics from the State University of New York at Stony Brook graduating Magna Cum Laude with Phi Beta Kappa honors.