By Joe DeSiena, President Consulting Services
The PETRO® Asset Management Process
Merely "chasing data" is a poor substitute for a formal asset management program and can be a daunting, expensive and extremely unrewarding task. In order to realize the full benefits of an asset management program, the first order of business is to move a paradigm shift away from the large, reactive and generally ineffective mass clean-up projects that typically accomplish little or nothing; and focus, rather, on the implementation of a set of prescribed, proactive processes that are eminently collaborative with the customer, partner or service provider. Something more is needed; and that something more is a formal asset management process.
The asset management tool that is ultimately chosen for use by the organization should be one that meets its specific – and sometimes, unique – needs. This is clearly a case where "one size does not fit all". Whether the situation calls for merely an improvement made to an existing tool, a revised or re-engineered process, or a completely new approach, each organization's needs must be carefully evaluated and assessed, and a customized solution must be designed and implemented to achieve the best results.
Some organizations may already have the requisite internal skills and experience to build an asset management solution on their own, while others will need to seek out professionals that have significant experience in the design and development of the specific types of processes and applications that will be required, ranging from data extraction, to data assimilation, to associated systems development and implementation. Although many solutions may look good on paper initially, the "devil is in the details", and the details will play a critical role in the prospects for a successful implementation.
Whether designed internally or through an independent systems integrator, the implementation will need to focus on the specific aspects of analysis, development and reporting to ensure for the delivery of a complete solution and implementation. Many businesses mistakenly believe that they can build an effective asset management tool virtually "out of the box". However, while the concept is easily enough understood, the unique complexities of each organization's IT environment are such that in almost all cases, outside assistance will be needed.
To address the myriad complexities that define individual business organizations, Bardess Group developed its own asset management process, known as PETRO®. Encompassing five key areas of focus, PETRO®, utilizing a Six Sigma approach, can serve as the foundation for the design and implementation of an effective end-to-end asset management solution (Figure 1). The five key components include:
P –  Pre-Inventory: Review and Prep of Baseline
Review and validation of company assets, spares, inventory, installed base records and required reference data; establishment of a framework for conducting the inventory/network audit; establishment of a baseline for making comparisons.
E –  Extraction: Customer Network Data Acquisition
Acquisition of data from physical inventories, automated network discovery tools or record extracts in various formats.
T –  Translation: Mapping of Data
Interpret, map and restate data from acquisition format to a format that may be matched to the Company's baseline data.
R –  Reconciliation: Matching, Reconciling and Editing
Validate the inventory results to the baseline; matching and validation of inventory results to the Company's record baseline, and the generation of associated user reports.
O –  Original Assimilation: Transform, Integrate and Load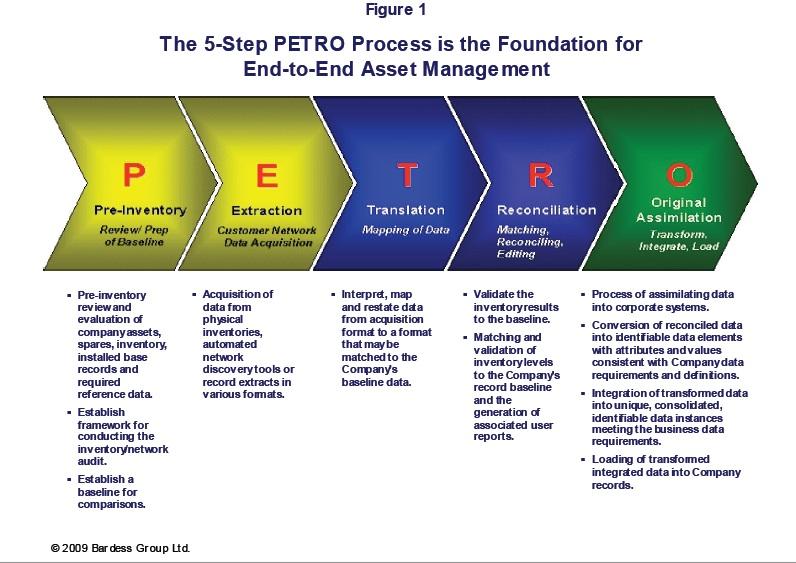 Process of assimilating data into corporate systems; conversion of reconciled data into identifiable data elements with attributes and values consistent with Company data requirements and definitions; integration of transformed data into unique, consolidated, identifiable data instances meeting the business data requirements; loading of transformed, integrated source data into the Company's records.
Since the success of any asset management solution in the long-term is directly related to the quality of the ongoing data maintenance program employed, the respective process and system interfaces must be designed to support the ongoing updates and assimilation of data to the Company databases through the specific touch points where asset data is updated or changed. In other words, the quality of data must not only be ensured throughout the entire process, but the ability of the solution to maintain data quality over time, and through all individual touch points, must also be protected.
About the Author
Joe DeSiena is President of Consulting Services at Bardess Group, Ltd., a Management Consulting firm specializing in data revitalization, business process design, and information technology for services-related businesses.   He is currently a board member of the Society for Information Management in New Jersey.
He is an experienced management consultant with over 20 years of professional experience assisting Fortune 500 clients in resolving business issues related to the Triangle Relationship between business data, processes and systems functions for services and sales organizations. More specifically, he has directed engagements in services marketing and delivery, business planning, data revitalization, data migration, process design and reengineering among others. He has shared his experience and insights in presentations before numerous senior client and association groups.
Joe DeSiena's industry exposure includes data networking, telecommunications, manufacturing, pharmaceuticals, financial services, utilities, travel and entertainment among others. He has corporate management experience in major companies such as American Express, Chase, Bristol Meyers-Squibb, Coopers & Lybrand (PWC), Deloitte Touche, and Pan Am.  Joe DeSiena is a graduate of the Stern School of Business at NYU with an MBA in Finance. He received his B.A. in Mathematics and Economics from the State University of New York at Stony Brook graduating Magna Cum Laude with Phi Beta Kappa honors.