A Success Story
Data Analytic Visualizations On-Demand for a leading provider of technology, communications, and entertainment products & services.
Bardess developed a business-friendly solution for the client's HR IT, which resulted in rapid adoption of the scalable analytics platform with significant cost and resource savings.
Industries: Technology, Media & Publishing
Technologies: Qlik, Text2Viz®, QVD Catalog, more
Use Cases: Enterprise COE, Enterprise Architecture, HR Reporting, Data Strategy & Governance, Data Literacy, Platform Adoption, Development and Security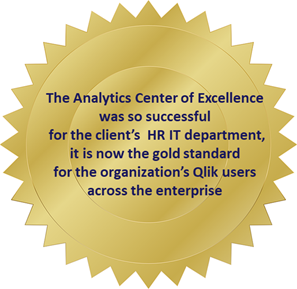 CHALLENGE
The client's legacy analytics tool was costing millions in system licensing, and they needed to migrate tens of thousands of users to the new more-modern Qlik platform quickly, without adding headcount. Democratized data across the enterprise was needed but it was also imperative that the Center of Excellence (COE) still maintained the standards of the output from the newly federated applications without compromise to the analytics' results. The client turned to Bardess, their long-term consultative partner, to help their small HR IT team successfully complete the massive project.

THE BARDESS SOLUTION
Bardess envisioned, developed, and architected an automated user-friendly software development lifecycle as part of the enterprise HR IT Reporting Analytics Center of Excellence (ACOE). The enterprise-grade solution included an assessment of Kubernetes and enabled an underlying architecture that was scalable, a version management process that worked seamlessly, and a code promotion that supported application development by business users. To embed secure best practices in the democratized data process, the users were provided technical templates that included application security and Qlik Sense mashups. Using Bardess' proprietary accelerators, the solution included a governed Qlik View Data (QVD) cataloging function that harvested metadata from the QVDs. Additionally, it provided reporting on the metadata which enabled business users to find relevant data points from the curated data to support their unique use-case stories, ad hoc.

VALUE & BENEFITS
The simplicity of the self-service toolset expedited mass adoption of the new platform across the enterprise, significantly reducing legacy system costs. Through Bardess' proprietary accelerators, customized end-user training, and the newly refined ACOE, the client's small technical team was able to efficiently transition over 10K new enterprise Qlik users. Bardess positioned the small HR IT group to succeed by enhancing the ACOE and delivering a cost saving, future-forward, secure, and easy-to-use HR Analytics and Reporting toolset built on Qlik.
10K Plus
Enterprise Users
Complete Adoption Expedited
$ Savings
Legacy Software Retired
Licensing Streamlined & Simplified
ACOE
Analytics Center of Excellence
Gold Standard for Enterprise Qlik Users
Main Office
U.S. Headquarters
477 State Route 10, Suite 208
Randolph, NJ 07869