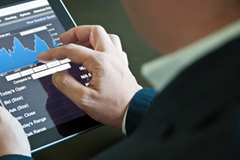 In the highly regarded Gartner Magic Quadrant, TIBCO Spotfire® is ranked as one of the most flexible and easy to use data discovery platforms for self-service discovery, authoring analytic apps, and publishing interactive and highly visual dashboards.
TIBCO Spotfire Analytics equips business, technical, and scientific professionals throughout the enterprise to freely analyze data and create and analytic applications and dashboards. Spotfire Analytics puts end users in more control, which speeds to the "time to insight" while reducing typical bottlenecks within IT building new reports or reconfiguring databases. With Spotfire Analytics, business users can explore their data at the speed of thought and achieve competitive advantage faster than ever.
New insights and answers are found via Spotfire's award-winning, next generation, in-memory data engine. It offers instantaneous response to new questions and makes its offerings truly self- service, without the need for IT intervention or support.