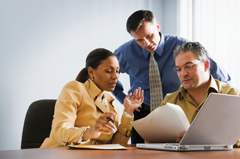 Bardess is a Master QlikView Reseller and a Valued-added Consulting Partner. We deliver solutions throughout the US and have significant experience implementing QlikView in large corporate enterprises.
Our proven track record of resolving data issues that impact the success of business intelligence applications differentiates us from the competition.
We ready your data for presentation to your organization by collecting, translating and mapping the right data from disparate sources into your QlikView application.
In addition, we will assist you to create meaningful analytics and visual representations of your data based on years of experience with large corporate clients. We will set up your QlikView systems architecture and ensure it is integrated into your systems infrastructure.